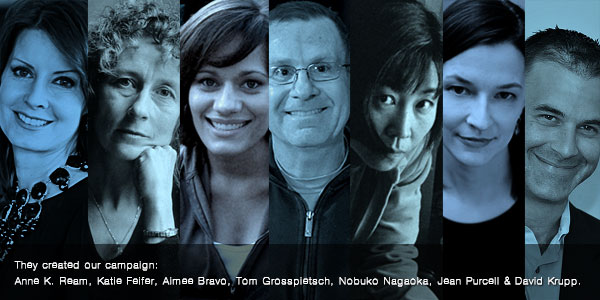 It's not marketing, it's a movement: Our anti-trafficking campaign reaches the European Union, and beyond.
At The Voices and Faces Project, we believe that communications and storytelling are critical tools in the fight to end social injustice.
So our in-house creative team is always thinking about new ways to use advertising and design to engage the public in the fight to end sexual violence and exploitation.

The Ugly Truth campaign — a multi-media advertising effort that made over 400 million impressions in the fight to end trafficking and exploitation in Illinois — was one such effort. Created by The Voices and Faces Project in partnership with our private sector allies at Kinetic Media, this multi-media campaign contributed to changed Illinois law, while opening people's eyes to the very real damage done to those who are sexually exploited. "We wanted to create a public conversation about sexual exploitation in the US, and beyond our borders," notes Katie Feifer, our campaign research director. "And this campaign definitely got people talking."

A local campaign, international recognition. Last month, The Ugly Truth was selected as one of the best anti-trafficking advertising campaigns worldwide, through a Fondazione Giacomo Brodolinas evaluation directed, and in part funded, by the European Union and GendeRIS, which "aims to support and strengthen the fight against trafficking in human beings through a gender sensitive approach." Our Voices and Faces Project campaign, along with the other winning selections from across the globe, will be shown at a gallery in Rome during the month of May. It is also receiving wide exposure on the GendeRIS website, and through EU-coordinated meetings in several European cities.

Read the Crain's Chicago Business piece on our Voices and Faces Project Ugly Truth campaign HERE.

To find out more about bringing the campaign to your community, email Katie@voicesandfaces.org
The Voices & Faces Project | Article 2

A Reason to Celebrate

On November 15, 2014, The Voices and Faces Project celebrated the second printing of Lived Through This: Listening to the Stories of Sexual Violence Survivors. The event raised $25,000 for the "Stories We Tell" scholarship fund. We are grateful for the generous support of our sponsors who helped make the celebration possible.

Listen to the audio of Steve Edwards, Executive Director of The University of Chicago Institute of Politics, discussing the multi-year, multi-country journey the led to Lived Through This with author Anne K. Ream and photographer Patricia Evans and view a slide show of the event.


The Voices & Faces Project | Article 3

Alice + Olivia (& you!): Be there on May 21st

Please join us at Alice + Olivia on Michigan Avenue on May 21st for an evening of shopping to benefit The Voices and Faces Project. 20% of purchases will go directly to The Voices and Faces Project.

Alice + Olivia
919 Michigan Ave.
Chicago, IL
5:00 pm - 7:00 pm


The Voices & Faces Project | Article 4

Our testimonial writing workshop, your city:
take part in "The Stories We Tell" in 2015.

"The Stories We Tell," our two-day testimonial writing workshop for those who have lived or witnessed gender-related violence, will travel to 7 North American cities in the coming months. To take part in this first-of-its kind program—and to find out more about bringing the workshop to your city, email us for details.


We can't do it without you:
Support our "Stories We Tell" Scholarship Fund.
Find out more about giving the gift of change by donating to our workshop scholarship fund. Every $500 raised provides a full two-day scholarship for a survivor waiting to take part in our program.