On any given day, over 16,000 women and girls are prostituted in the greater Chicago area.
The vast majority of these women entered the sex trade after fleeing abusive homes, often while still in their teens. The average age of death for a prostituted woman? According to a comprehensive mortality study funded by the National Institutes of Health, it's a heartbreaking 34 years old.

These are just a few of the facts that prompted The Voices and Faces Project to create "The Ugly Truth," a multi-media advertising campaign that seeks to raise awareness of the harm inflicted on women who are trafficked or prostituted, while calling the public to clear and measurable action on their behalf. Developed as part of the End Demand Illinois advocacy campaign, "The Ugly Truth" seeks to create a measurable change in public attitudes about trafficking and prostitution in Illinois, and serves as a model for coordinated policy and media efforts in other states. The campaign will make over 200 million audience impressions during its three month run, bringing the national sexual trafficking hotline to the attention of millions of women and girls.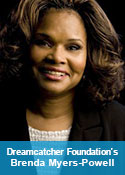 Great campaigns start with good listening: Getting to "The Ugly Truth."


Before development of this multi-media public service campaign, our Voices and Faces Project team spent over two years listening to the stories of those involved in the sex trade, along with victims of gender-based violence more broadly. This "listening effort" involved the Chicago Coalition for the Homeless, Polaris Project, our partners at CounterQuo.org, and – perhaps most importantly – the Dreamcatcher Foundation, a survivor founded, survivor led and survivor focused agency created to end human trafficking. The belief of the vast majority of women and girls we listened to – that the public too often disregards the damage done to trafficked or prostituted persons - was the impetus for taking our message to the media.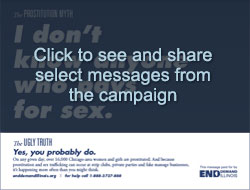 Breaking through barriers: Creating a campaign that encourages the public to think, and act.
To better understand what campaign messages might encourage a more compassionate response to those in the sex trade - and lead to the passage of public policies such as the elimination of felony prostitution charges in Illinois - Voices and Faces Project research director Katie Feifer conducted a series of "one on one" interviews with Illinois citizens. This research effort helped us develop our "Ugly Truth" campaign messages, meeting the public "where they are" with language that will break through. Thank you, Katie, for your insights and your passion for creating great campaigns that do real good. Find out more about Katie.


What is End Demand Illinois?
End Demand Illinois is shifting law enforcement's attention to sex traffickers and people who buy sex, while proposing a network of support for survivors of the sex trade. Along with CAASE and The Voices and Faces Project, EDI partners include Polaris Project, the Chicago Coalition for the Homeless, Cook County Sheriff's Women's Justice Programs, DePaul University, and the Illinois Coalition Against Sexual Assault.
Get engaged: Make our campaign your campaign.
DOWNLOAD print ads from the campaign and check out "Ugly Truth" street, outdoor and radio ads that are running right now.


CHECK OUT an interview with Kemery Bloom of the Lakshmi Foundation, to find out why she has chosen to support our "Ugly Truth" campaign.
To find out more about our "Ugly Truth" campaign and our Voices and Faces Project work creating communications and storytelling efforts that create change email media@voicesandfaces.org

We'll keep standing up and speaking out until the violence ends. But we can't do it without you. Please support our work.
The Voices and Faces Project
, recently named one of "America's Best Charities" by the board of directors of Independent Charities of America, has been recognized by the United States Department of Justice as part of the "new generation" of anti-violence leaders. We're working to change minds, hearts and social policy by helping survivors to tell their stories and by introducing those stories into the public square. We need your support to continue our work.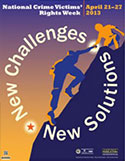 The Voices and Faces Project, the WI Attorney General, and words that create change.

On April 23rd, during a US Department of Justice Crime Victims Rights Week ceremony in Madison, WI, the Attorney General's Office featured a moving poem written by Lynn Maglio during "The Stories We Tell," our Voices and Faces Project testimonial writing workshop for those who have lived or witnessed sexual violence or trafficking. Lynn's poem, which underscores the damage done to victims of sexual violence and those who love them, is a powerful example of the testimonial writing being created during the two-day workshop developed by award-winning fiction writer R. Clifton Spargo.

To find out more about bringing "The Stories We Tell" to your own community, email us.