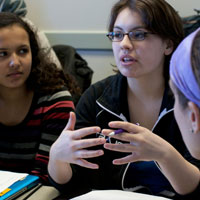 Be the change: Bring "The Stories We Tell" to your region in 2015.

During
"The Stories We Tell,"
The Voices and Faces Project
's two-day testimonial writing workshop for survivors of gender-related violence, workshop participants read and discuss history's most compelling and world-changing testimonial writing, while taking part in a series of innovative real-time writing exercises. Led by novelist
R. Clifton Spargo
and workshop facilitator
Anne K. Ream
, "The Stories We Tell" is a first of its kind program for those seeking to create change through the power of their testimonies.
Our 2015 workshop schedule will be announced in February - stay tuned!
To find out more about bringing the workshop to your region, email
testimonial@voicesandfaces.org